A Sustained Inquiry into Two Intimate Instruments: Table and Tool Box / A Puzzle Construction



Designed & Constructed in 2022
Exhibited in GEMMS'21
Circle-o, İstanbul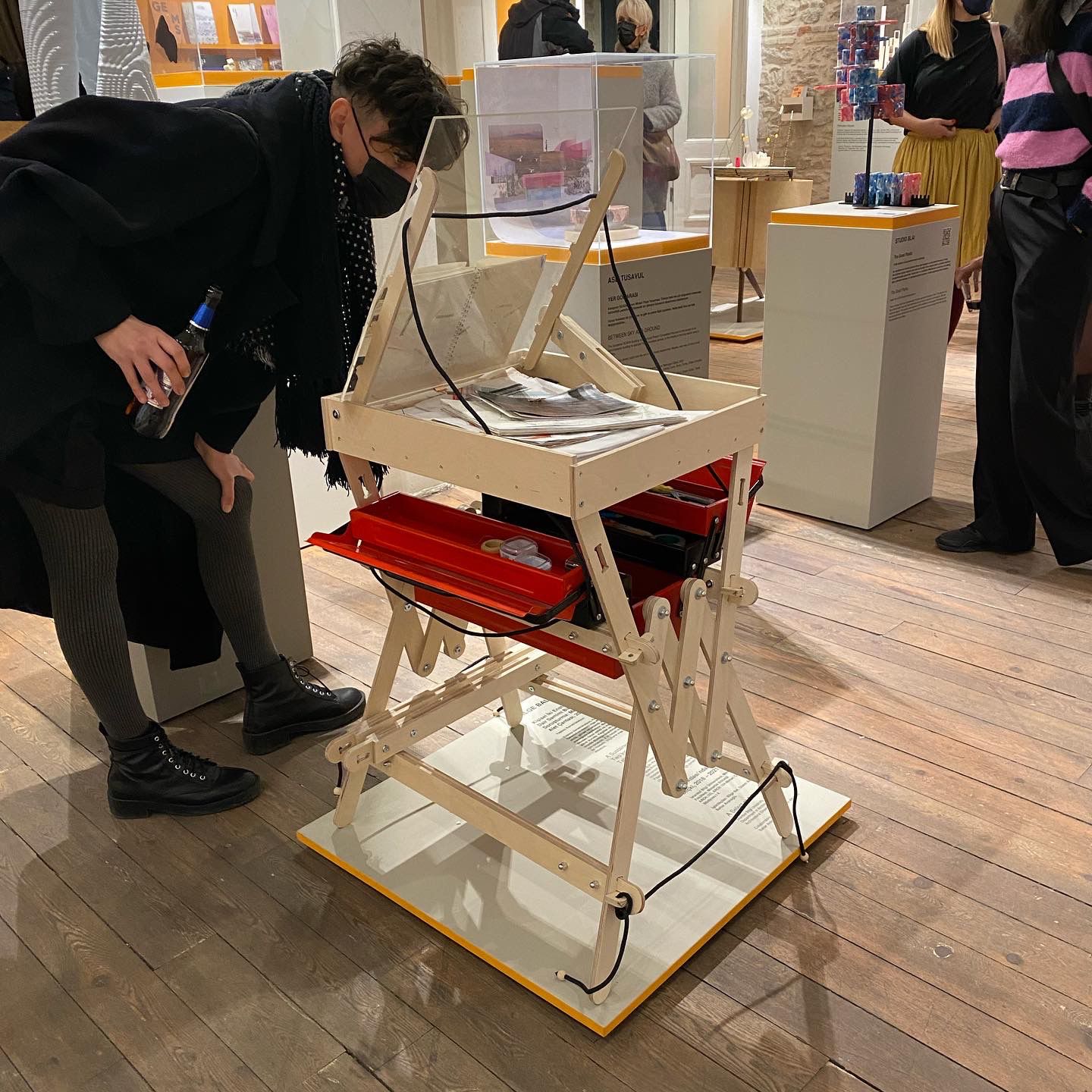 The puzzle construction is for a portable structure for an itinerant consist of three
elements: A tool box including ordinary and extraordinary drawing instruments, a
transparent tabula for drawing at the top and its box for displaying several drawings
under, which can also transform into a backpack together and a scaffolding to hold
all together. One can fix the tool box into two levels on the scaffolding. The details of
system have a dialogue with the tool box.

The puzzle construction explores the modes of being on the table as well as
constructing a table through verbal, visual and tectonic conversations. Table is
redreamed and reconstructed by Bilge. And it is living. Papers and several tools are
left for you (X). Now, you (X) are invited to day-dream about X's table through
constructing lines on Bilge's table.


///


Kişisel İki Enstrümana Dair Samimi Bir Soruşturma: Masa ve Alet Çantası
/ Yapboz Konstrüksiyon


Yapboz konstrüksiyon, bir gezgin çizer için taşınabilir bir düzenek. Üç parçadan
oluşur: Çizim yapmak için hem alışılageldik hem de istisna aletleri ve malzemeleri
barındıran bir alet çantası; üst yüzeyi çizim yapmak için kullanılabilen bir tabla, hacmi
ise çizimleri saklayan ve sergileyen bir hazneye dönüşen sırt çantası da olabilen bir
ahşap kutu ve bu ikisini bir arada ve ayakta tutan bir iskele. Alet kutusu, iskeleye iki
seviyede sabitlenebilir. Konstrüksiyon sisteminin detayları alet kutusu ile diyalog
halindedir.

Yapboz konstrüksiyon, masada olma hallerini ve masayı inşa etme biçimlerini sözlü,
görsel ve tektonik sohbetler aracılığıyla keşfediyor. Masa, Bilge'ce yeniden hayal
edildi ve inşa edildi. … ve şimdi burada. Kâğıtlar ve türlü aletler ise onunla diyalogu
başlatmak üzere sizin (X) için bırakıldı. X'in hayali masasını, şimdi, bu masada, türlü
çizgilerle inşa etmeye davet edildiniz.



* special thanks to Ahmet Sertaç Öztürk for his technical assistance,
detailing and let me use his atelier, Hayalbilim.